Wansleydale ~

Latest News

"Our Dogs" Top Breeder, Top Stud Dog & Top Brood Bitch 2017, 2018 & 2019

March 2020: 16th March - well it appears the coronvirus has well and truly arrived in the UK and we are going into "lockdown" so no more shows for the foreseeable future!
---
7th March - as I didn't make it to Crufts yesterday, Kinga, Dorota and husband Chris came over to spend the day with me. Sadly Zibby had to go home straight after Crufts so no chance to meet with him amd Bonnie. It was great to see them and of course it gave me the opportunity to meet up with Robin and Jude who I hadn't seen since they left me as 16 week old puppies for their long journey to their new homes in Poland back in November 2017.What a pair, full of fun, maturing so well and in lovely condition - a credit to their owners. We went off for a long walk taking their mum Margo and our youngster Martha with us so that they could burn off some energy before they were back in the car for their return trip tomorrow.
| | |
| --- | --- |
| | |
| Martha chasing after Jude and her mum Margo | Margo - W.Margarita, Martha - W.Bizzie Bee, Jude - Polish Ch. W. Strega & Robin - Polish Ch W. Maraschino |
---
6th March - Gundog day at Crufts but just couldn't face another early start and long day after only getting home from Crufts yesterday at 8.00pm. So a lazy day at home and looking at the show results glad I didn't bother as I don't think the judge would have liked my dogs if her class placings were anything to go by! Most of the Wansleydales there today went home with a card, including the reserve CC for Tereza and Star but sadly the "Polish Wansleydales" were not so fortunate. A long trip for them but I think they enjoyed the experience.Can't remember the last time I didn't show at Crufts.
| | |
| --- | --- |
| | |
| Polish Champion Wansleydale Maraschino (Dorota with Robin) | W. Amaretto (Louise with Rosie); litter sister Pol Ch W. Strega (Kinga with Jude) litter brother Pol Ch W. Maraschino & Int Ch W. Orszak Gold (Zibby with Bonnie) |
---
5th March - Crufts "Vulnerable Breeds" competition day. This show case is for British native breeds that have waned in popularity and have an annual puppy registration of less than 300. Sadly this has applied to English Setters for the past few years. As Margo won Best of Breed at the National Gundog championship last year she was invited to represent English Setters today. Unfortunately this event was scheduled for the first day of Crufts which is not the day Gundogs are to be judged this year so friends at the show to chat to!
February 2020: 19th Feb - Whisper's pups are 7 weeks old today and off to Pride Vets at Derby for their BAER deaf testing appointment. Pleased to say that they all passed with normal hearing in both ears.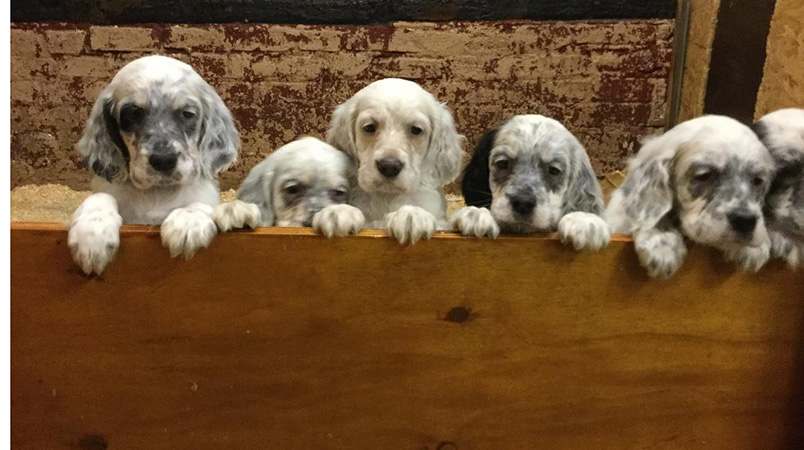 ---
16th Feb - back home in time to judge today at Matlock and District show. Some lovely dogs for me to go over and so pleased to see that my Gundog Group winner, the Pointer, went on to win Reserve Best in Show.
---
7th Feb - exciting day as a small group of us "English Setter ladies" are jetting off this afternoon to New York for a week to visit the famous Westminster dog show. First stop was a few days at the Hilton hotel at Rye for the English Setter specialities. This was a great opportunity to meet the American exhibitors and discuss grooming, breeding etc as well as watching them exhibit min 2 club shows a day over the weekend. Bonus for me was it was also the speciality shows at the same venue for German shorthaired Pointers. It was a great experience with a fabulous atmosphere and the opportunity of sitting in comfortable chairs right at the side of the rings in luxurious surroundings - deep pile carpets underfoot and extravagent chandeliers overhead. Quite different from a plastic chair in a cold draughty cattle shed at one of the UK agricultural venues! An added advantage was that as we were staying in the same hotel you could easily pop back to your room or to the bar for a drink. The American bred dogs certainly have some differences in confirmation and type to ours but they are still quality dogs and immaculatley groomed, albeit again in a slightly different manner. For me one of the most impressive sights was the standard of show handling - if only Dash would behave like that!
| | | |
| --- | --- | --- |
| | | |
| US champion - orange male | US champion - tri male | US champion - orange bitch |
All 3 were Best in Show winners at the Specialities, with the beautiful orange bitch also winning Best of Breed a few days later at the Westminster show. After the shows it was time for a bit of sight seeing, a lot of eating and of course retail therapy at Macey's!
| | | | |
| --- | --- | --- | --- |
| | | | |
| Jane, Glen, Stella and me at Grand Central Station | Statue of Liberty - bit shaky taken from the ferry | Stella enjoying Times Square | My all American breakfast - this is just a half portion! |
---
3rd Feb - Whisper's pups are now just over 4 weeks old - the girls on the right and the boys on the left.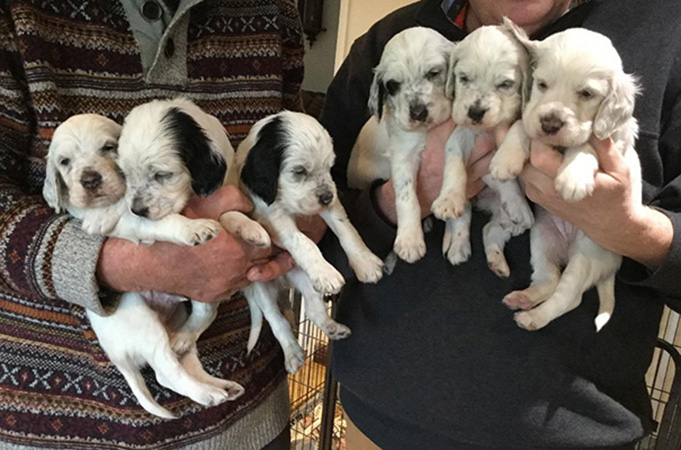 ---
2nd Feb - Midland English Setter championship show, the first breed show of the year and one of my favourite shows. Sonny, Rupert, Jos, Daisy, Star and both Rosies were all in the cards for their owners today with our Dash and Martha both winning red rosettes. Sadly our lovely Lizzy failed to catch the judge's eye but Martha suprised and delighted us by being awarded the reserve CC. She is the youngest Wansleydale to achieve such high honours.
| | |
| --- | --- |
| | |
| Dash - Wansleydale Quicksilver JW | Martha - Wansleydale Bizzie Bee |
| | |
| Star - Sh Ch Wansleydale Star Queen of Glenmaurangi | Rosie - Wansleydale Amaretto |
---
1st Feb - Isle of Ely open show near Grantham and Martha wins her class, her points tally for her Junior Warrant is coming on well.
January 2020: 26th Jan - Needed to go to Stonleigh today for the ESA committee meeting at the village hall. Managed to fit in a quick show with Martha at the Stonleigh Exhibition centre just beore the meeting started and won her class and another point towards her Junior Warrant.
---
19th January - Manchester championship show at Stafford - our first big show of the year and a good start to 2020. First place for Martha in Junior and then Margo also wins her class and the Reserve CC. Also placings today for all the other Wansleydales shown.
---
10th Jan, Boston Championship show. Lovely 1sts in Post Graduate and Special Beginners for Louise with Rosie (Wansleydale Amaretto)
---
Jan 5th, a quick trip across to Newark with Martha for the Dukeries Gundog show. First place in Junior and then a lovely hour sitting in the cafe with the dogs and a group of friends having a good old chat!
---
Jan 1st, well the year started with a bang as Whisper whelped through New Years Eve and the early hours of New Years Day. She safely delivered 6 puppies, 3 males and 3 females.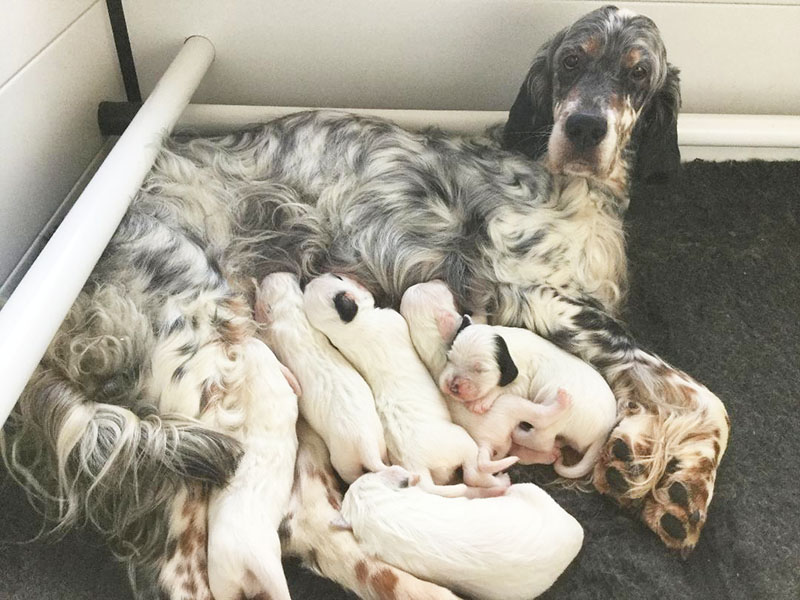 return to Homepage
return to Latest News Pages