March 2019: 9th March - here we go again! 6.30am and we are back on our way to Crufts. This time for the International Junior Handling Competition - we have loaned Whisper for the day, and we are joining Stella with Peaches (Wansleydale Faerie Queene with Bramstorm) who is also on loan.These junior handlers are so proficient, hard to believe that some are only 12 years old. Whisper's handler was a young lady from Malta, only 14 years old, named Riona Manicaro.The handler only gets about 30 minutes to meet the dog before they have to enter the big ring at Crufts. Riona was so gentle with Whisper and soon developed a rapport with her. She made a really good job of handling her, must be very nerve wracking for these youngsters as they leave the relative quiet of the "behind the scenes" collecting ring and go through the tunnel to the main ring with all the bright lights, TV cameras and huge audience in tiered seating that goes up to the roof!. I'm sure it's also a bit overwhelming for the dogs but Riona managed Whisper in a calm, reassuring manner and I think they both enjoyed the experience. Peaches was handled by a young lady for Ireland, Sarah Cushley, who also did a great job. Sadly neither were selected for the final placings but congratulations to the both , they were great!. While all of this was going on Stella, Yvonne and I were browsing the trade stands, eating, and making friends with one of the BBC presenters, Radzi. Until a few years ago Radzi was a Blue Peter presenter - no Blue Peter badges today though!
| | |
| --- | --- |
| | |
| Riona handling Whisper in the International Junior Handling Crufts 2019 | Me, Stella and Radzi |
---
8th March - complete change today, took our visitors to Sherwood Forest, after all Dorota's Robin is named after Robin Hood! Had a lovely walk with 4 of the dogs through the Forest to see the Major Oak.
Dorota & Kinga at Sherwood Forest Visitor's Centre with muddy Lottie, Karla, Scarlet & Dash. And not forgetting Robin Hood!
---
7th March - Crufts Gundog Day at the NEC. Early start with Margo and Whisper, picked up Ingrid with Acer on the way and then delayed in heavy traffic. Luckily Dorota and Kinga are over from Poland and they were waiting for us at the NEC entrance to help us get the dogs, bags and cages safely inside. Our show results were much as I expected, a 3rd for Margo, 5th for Whisper, 2nd for Linda with Rupert, 5th for Acer and a 3rd for Stuart and Yvonne's Rosie.
| | |
| --- | --- |
| | |
| Margo, Wansleydale Margarita, Crufts 2019 | Margo showing her perfect topline and slashing tail |
| | |
| Whisper, Wetherby Whisper to Wansleydale being assessed by the judge | Whisper on the move, exhuberant as ever |
| | | |
| --- | --- | --- |
| | | |
| Linda with Rupert, Wansleydale Dorian Gray JW | Ingrid with Acer, Wansleydale Ace of Hearts over Ingella | Yvonne with Rosie, Wansleydale Magic Rose JW |
Continuing on her amazing winning run and flying the flag for us was Star, Sh Ch wansleydale Star Queen at Glenmaurangi, who won Best Bitch and Best of Breed. As usual she looked stunning and really showed her socks off - many congratulations to owners Angela, Tereza and Kerry.
| | | |
| --- | --- | --- |
| | | |
| Tereza handling Star to Best Bitch | Best of Breed line up Crufts 2019 | Proud owners Angela & Tereza with the lovely Star |
Many thanks to Kacper for the photos A really long but enjoyable day, left home at 6.15am and arrived back at 7.30pm with our Polish visitors, Dorota and Kinga and had a lovely supper of good old British Fish and Chips!
February 2019: 24th Feb - Judging today at The Yorkshire Gundog Club show up in Bradford. Really good entry with many top quality dogs on show. I was judging Irish Setters, the Variety Stakes classes and eventually Best in Show. Really spoilt for choice as the breed judges had sent through some super Best of Breed and Best Puppy winners for me to choose from. My final choices were a GSP for Best in Show (very similar breeding to my GSPs so no wonder I liked her!) and an Irish Red & White Setter for Best Puppy in Show. Really enjoyed my day and will follow the progress of my main winners as their show careers develop.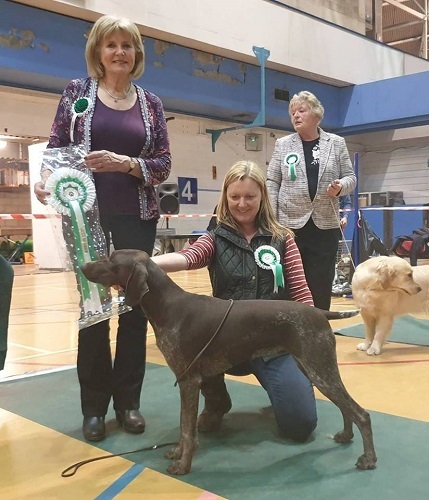 Best in Show - Dawn Elrington's Barleyarch Dorito
---
10th Feb - In Poland it continues to be a good start to 2019 for Jude and Robin at Katowice A lovely first CACIB and BOB for Kinga with Jude (Pol Ch Wansleydale Strega) and Junior BOB and Best Opposite Sex for Dorota with litter brother Robin (Pol Ch Wansleydale Maraschino)
| | |
| --- | --- |
| | |
| "The Twins" winning at Katowice | But it was Jude today who took the Top Spot |
---
3rd Feb - First of the breed championship shows, Midland English Setter Society at Stonleigh. I love this show as it always so friendly. Added bonus is that we usually do well there! This year was no exception with all Wansleydales in the cards including our Dash who won the Special Yearling class. However it was an even more fabulous day for Jeanette with Jos (Wansleydale Goldsmith) who won his first CC. Across in the bitch ring it was Star yet again who was awarded the Best Bitch award, after winning the Open Bitch class with Whisper coming second.It was lovely to see Jos and Star challenging for Best in Show, with Star taking the top award. She really is on a roll at the moment!.
| | | |
| --- | --- | --- |
| | | |
| Wansleydale Goldsmith - Dog CC & Reserve BIS | Wansleydale Quicksilver JW - winner of Special Yearling class | Sh Ch Wansleydale Star Queen of Glenmaurangi Bitch CC & BIS |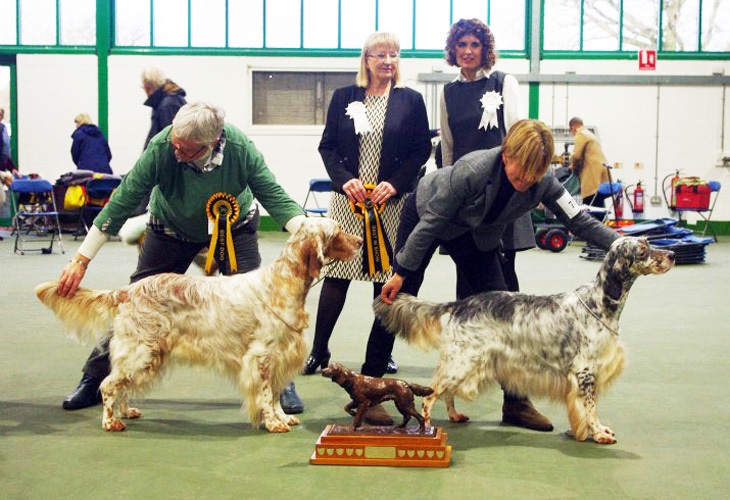 MESS Best in Show 2019, Jeanette & Jos and Tereza & Star with the judges. Thanks to MESS for the photos

In fact it was all a bit of a family affair as the Best Puppy in Show winner was a 6 month old daughter of Wansleydale Solitary Bee among Alofrana who has recently been returned to us for rehoming.
January 2019: 27th Jan - the show scene has also started across in Poland. Early success for Kinga with Jude who wins the CWC and Best Opposite Sex. Must get more clarification from Dorota and Kinga on the Polish awards system - it is so different to the UK.
| | |
| --- | --- |
| | |
| Kinga with Polish Champion Wansleydale Strega | The lovely Jude |
---
Last November Lizzy (Sh Ch Wansleydale Queen Bee JW) had a lovely litter of pups sired by Hecktor (Daraquist Billy Bong) Now it's time for them to go off to their new homes - leaving just one behind for us, the dak tri bitch who we have called Martha.
| | | | |
| --- | --- | --- | --- |
| | | | |
| Blue Bitch Puppy | Light Tri Bitch Puppy | Dark Tri Bitch puppy | And the only Dog Puppy |
Hopefully we will see them in the show ring towards the end of the summer. 19th January - My first show of the year and we are off to a great start. Just Dash (Wansleydale Quicksilver JW) entered today but he not only wins his class but goes on to be awarded the Reserve Dog CC. All in all a great day for us with W.Magic Rose wining her class and Ingrid winning Limit dog with Acer (Wansleydale Ace of Hearts over Ingella); second in the same class was the Sketchley's Wansleydale Frazer. Continuing her winning ways was Star who won the bitch CC, her 10th, Best of Breed and was later shortlisted in the Gundog Group.
| | |
| --- | --- |
| | |
| Star in the Group Ring | A lovely head shot of Star |
---
More good news to start the year- confirmation from the Carty family that Robin (Int Sh Ch Wansleydale Woodpecker at Berrywood is confirmed as the 2018 Annual Champion (number 1 English Setter)in Ireland. Many congratulations.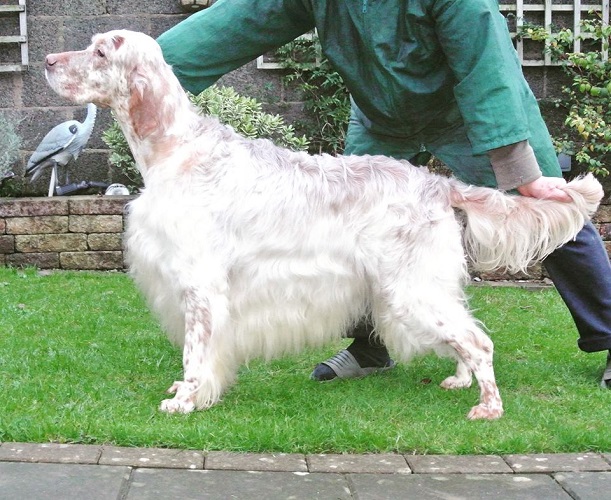 ---
A good start to the year with confirmation that Stuart & Yvonne's Wansleydale Magic Rose (Rosie) has acheived the final points needed for her Junior Warrant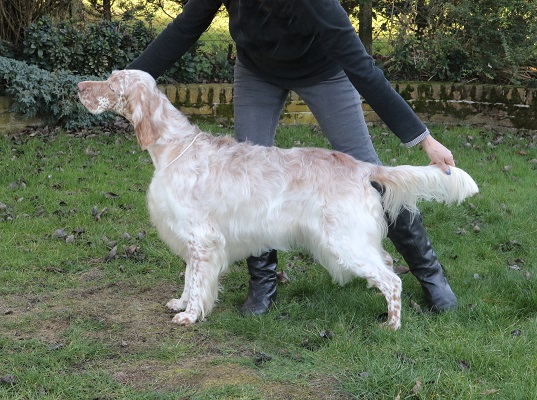 Boston Championship show saw her win both of her classes and then her first Reserve Best Bitch award, only beaten by Tereza with Star (Sh Ch Wansleydale Star Queen at Glenmaurangi) who then went onto take BOB. Well done girls!