After owning English Setters since1973, Linda took the 'Wansleydale' affix in 1980 and her first litter arrived in 1981 A tricolour bitch Willowgrouse (Willow) was kept and was quite successful in the ring. It was with Willow that we won our first CC and on the same day she went on to take BIS at the Midland England Setter championship show. 1986 saw the arrival at Wansleydale of Valsett Video Star as a young adult. Spice was a great asset because as well a gaining her title she also produced 4 show champions, 3 for us and 1 for the Valsett kennel along with several other offspring that won individual CCs or reserve CCs.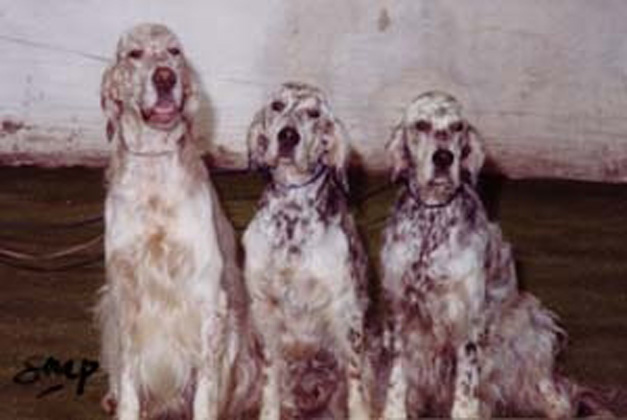 Left to Right:- Sh Ch W.Wandering Star, Sh Ch Valsett Videostar at Wansleydale & Sh Ch Wansleydale Watercolours

In 1992 Willow's granddaughter W. Water Colours became our first home bred show champion followed later in the same year by Spice's son W.Wandering Star. His litter brother W.Falling Star to Moordale also gained his title for owners Stuart and Sheila Tait.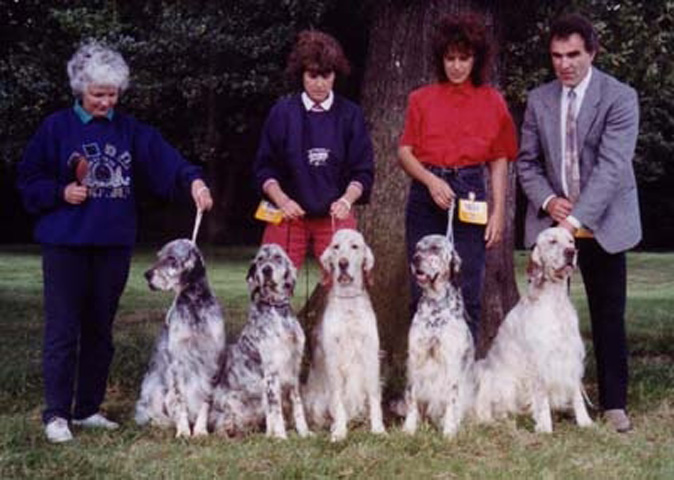 Five of Videostar's winning progeny,sired by Sh Ch Koiya the Highfligher from Bournehousepp L to R:- Evening Star, Wish Upon A Star, Sh.Ch. Wandering Star, Whatever Next from Bondgate, Sh.Ch Falling Star to Moordale

Lucky also proved to be an excellent brood bitch. From her first litter came International Champion Wansleydale Stay Lucky(Diego) who was campaigned throughout Europe by the Slow Fox kennel and gained his International Show Champion title . Her second litter produced the show champion litter mates W.Seabird (Hannah) and W.Jack the Lad, and also W. Storm Petrel( Ben) who won a CC for Stuart & Yvonne Wale.
Seabird is the dam of Sh Ch Wansleydale Blackbird (Faith) who went BOB at Crufts in 2002.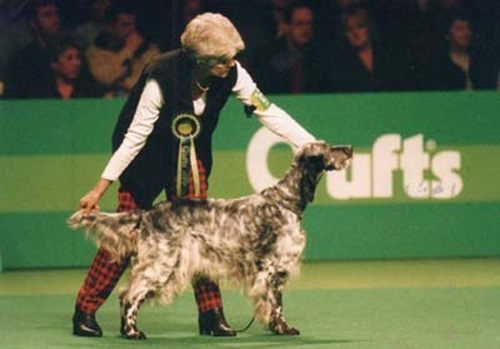 Seabird's second litter produced the Martin's Sh Ch Wansleydale Fool's Magic from Sunhouse, and the Golby's Rec CC winning Wansleydale Tomfoolery of Shadymoore. Her final litter produced the singleton dog puppy Wansleydale Free as a Bird. Lennox, as he is called at home, made a good start to his show career gaining his Junior Warrant at 15mths, but has now retired to a life of leisure. The strong bitch line continued as Blackbird's daughter Sh Ch Wansleydale Blackberry gained her title in 2005, with her litter sister Wansleydale Songbird for Bramstorm pushing hard with 1CC and 9 res CCs Other descendents from W Willow Grouse include the res CC winning W Muddy Waters, his son Bellesett Bo Diddley of Wansleydale (2CCs) and his daughter W Peggy Sue. Several of Peggy's offspring won well, most notably the Wale's Sh Ch W Storm Magic JW, and the CC winning W Waterloo owned by Ingrid Young of the Ingella kennel. In 2003 we were very fortunate to have a GSP puppy - Barleyarch Ostria join our other GSP, Stormridge Heike at W. Heike was never a show girl but did win a res CC and gave us the "bug" for this second breed. 2005 saw the introduction to the show ring of the litter brothers W. Magic Star (owned by Stuart and Yvonne Wale) and our own W. Witchdoctor. These two orange dogs are sired by Sh Ch W. Storm Magic, and are from Sh Ch W. Blackberry's first litter. W. Magic Star gained his title in late 2006, aged only 26 months, with W. Witchdoctor not far behind, winning his crowning third CC mid-2007. From a repeat mating 6 puppies entered the showring in 2007 and amazingly 4 have gained their title – W.Rowanberry of Valsett, W.Cloudberry at Bramstorm, W.Loganberry at Jolymore and W.Orszak Prince who is also a top winner in Europe for the Chrobrego kennel and has now achieved the title of International champion. Our own W. Mulberry won 1 CC & 4 res CCS, and the Stephenson's W.Huckleberry at Steeplow has 2 res CCs. In fact, 2007 was a very good year all round as in addition to Witch Doctor, our GSP Barleyarch Ostria at W. also gained her title, and the two youngsters W. Royal Flush and W. Mulberry gained their Junior Warrants. 2008 started well with W. Royal Flush gaining his title at Crufts.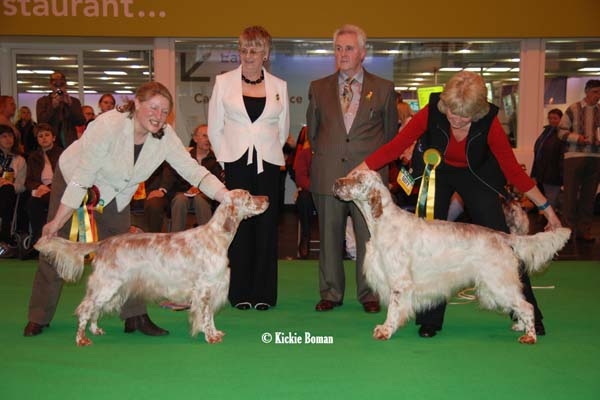 The following year it was W.Witchdoctor's turn and as well as winning the best dog certificate he was also awarded Best of Breed.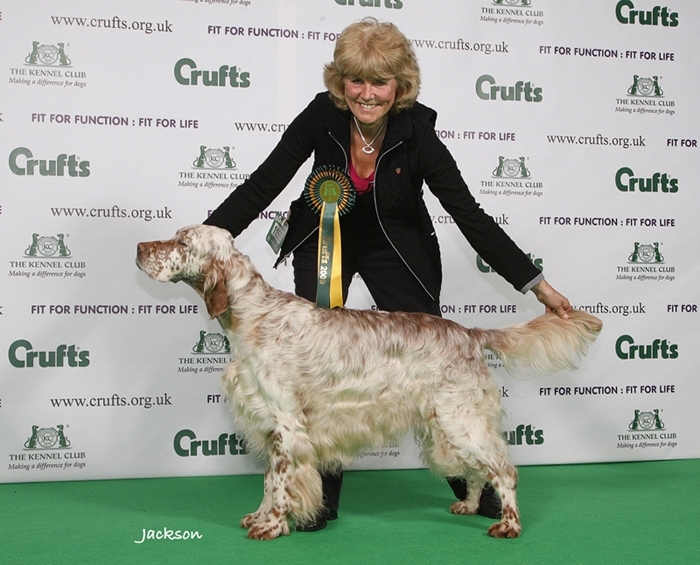 Other top wins by Wansleydale bred dogs earned us the "Our Dogs Top Breeder award for 2009" and wins by Blackberry's offspring earned her the title of "Dog World Top Brood Bitch award". In fact she was the top gundog brood bitch and finished in 6th place all breeds that year – a remarkable achievement for a bitch that had only had 2 litters. 2010 Midland English Setter championship show saw W.Orszak Prince and W.Cloudberry at Bramstorm winning best dog and best bitch with the bitch taking the top spot of Best In Show.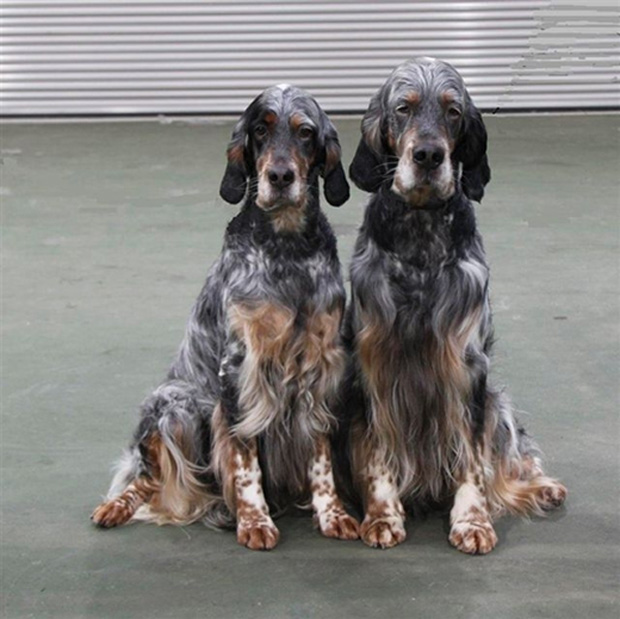 Both became show champions in 2010 . W.Orszak Prince then returned home to Poland and continued to win in many European countries and gained his International title. Although many continental English Setters become International champions, none ( to my knowledge) have returned to the UK for a short period and gained their coveted UK title so well done "Johny"! The setters took a back seat in 2011 although W.Tribute to Jolymore made his debut. Owned in partnership with the Jolleys, "Sonny" has had a good start to his show career and won his first res CC from Junior. However it was the introduction to the show ring of the 2 litter sister GSPs ( daughters of Sh Ch Barleyarch Ostria at Wansleydale) that took most attention with W. In a Pickle gaining her Junior Warrant and W. Pickled Pink winning her first CC and Best of Breed.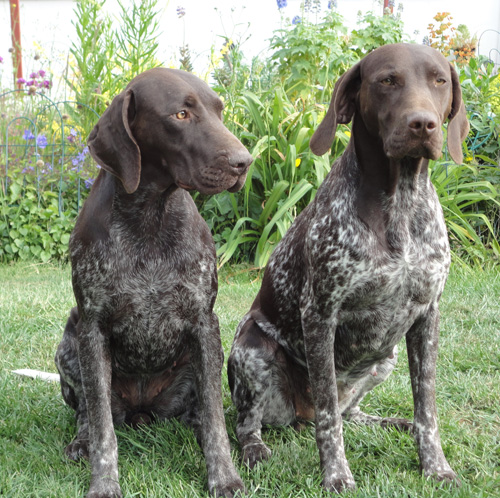 2011 finished on a sad note as we lost Domino - always in charge of the setters but constantly "pointed" by the GSPs.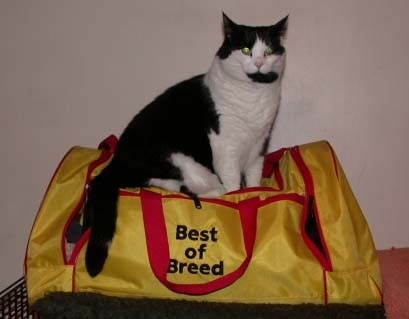 Looking on the brighter side we have 2 new English Setter pups at home – hopefully they will make a name for themselves in 2012! 2012/2013 And make a name for themselves they did - W.King of Hearts winning every breed class entered except one throughout 2012/2013 followed closely by his kennel mate W. Scarlet Ribbon. Both of these youngsters gained their JW and King of Hearts became a champion at only 28ths old. Also gaining their titles this year were the Jolley's W. Loganberry at Jolymore and our own beautiful dark orange bitch Moorbrook Golden Girl at Wansleydale. Summer 2012 saw the arrival of the terrible 2- litter brother and sister Burmese kittens. Our dogs now know that not all cats are like the mild mannered Domino!
2014 A good start to the year with Sh Ch W. Royal Flush winning reserve best dog at Crufts from the Veteran class. We also have 2 new bitches to introduce to the show ring later this year - both sired by Sh Ch W. King of Hearts at Bramstorm